"Kind words can be short and easy to speak, but their echoes are truly endless."
~ Mother Theresa
---
Life is change. Growth is optional. Choose wisely."
~ Karen Kaiser Clark

---
"Motivation is an external, temporary high that pushes you forward. Inspiration is a
sustainable internal glow which pulls you forward."
~ Thomas Leonard

---
"Never, never, never give up!"
~ Winston Churchill

---
"Our greatest glory is not in never failing, but in rising up every time we fail."
~ Ralph Waldo Emerson

---
"When you feel like giving up, remember why you held on for so long in the first place."
~ Unknown

---
"Between you and every goal that you wish to achieve, there is a series of obstacles,
and the bigger the goal, the bigger the obstacles. Your decision to be, have and do
something out of the ordinary entails facing difficulties and challenges that are out
of the ordinary as well. Sometimes your greatest asset is simply your ability to stay
with it longer than anyone else."
~ Brian Tracy

---
"Don't be discouraged. It's often the last key in the bunch that opens the lock. "
~ Unknown

---
"It's not that I'm so smart, it's just that I stay with problems longer."
~ Albert Einstein

---
"When the world says, "Give up," Hope whispers, 'Try it one more time.' "
~ Unknown

---
"Keep on going, and the chances are that you will stumble on something, perhaps
when you are least expecting it. I never heard of anyone ever stumbling on
something sitting down."
~ Charles F. Kettering

---
"It is said an Eastern monarch once charged his wise men to invent him a sentence
to be ever in view, and which should be true and appropriate in all times and situations.
They presented him the words: 'And this, too, shall pass away.'"
~ Abraham Lincoln

---
"The struggle of life is one of our greatest blessings. It makes us patient, sensitive,
and Godlike. It teaches us that although the world is full of suffering, it is also full of
the overcoming of it."
~ Helen Keller

---
"You don't drown by falling in the water; you drown by staying there."
~ Edwin Louis Cole

---
"When you come to the end of your rope, tie a knot and hang on. "
~ Franklin D. Roosevelt

---

"When you get into a tight place and everything goes against you, till it seems as
though you could not hang on a minute longer, never give up then, for that is just
the place and time that the tide will turn. "
~ Harriet Beecher Stowe

---
"Pain is temporary. It may last a minute, or an hour, or a day, or a year, but eventually
it will subside and something else will take its place. If I quit, however, it lasts forever."
~ Lance Armstrong

---
"Life is an opportunity, benefit from it.
Life is beauty, admire it.
Life is bliss, taste it.
Life is a dream, realize it.
Life is a challenge, meet it.
Life is a duty, complete it.
Life is a game, play it.
Life is a promise, fulfill it.
Life is sorrow, overcome it.
Life is a song, sing it.
Life is a struggle, accept it.
Life is a tragedy, confront it.
Life is an adventure, dare it.
Life is luck, make it.
Life is too precious, do not destroy it.
Life is life, fight for it."

~ Mother Teresa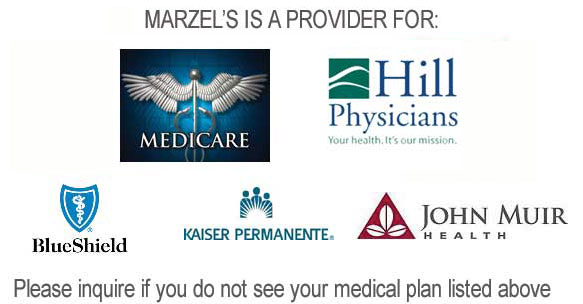 If you would like to be reimbursed by your health insurance firm for services or products, we will be happy to submit your request to your health insurance firm once we receive an RX from your physician. We'll help with all the paperwork, and if approved, your health insurance firm will refund directly to you. You are
required to pay us for all products and services in advance of delivery.

About Us | Directions & Hours | Contact Us | Product Brochure & Services

Medical Plan Coverage | Testimonials | Home Page | Legal & Coyright

Copyright © 2010 Marzels.com - All rights reserved.